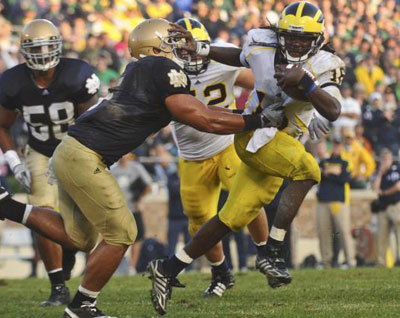 Rivals
released
their top-ten list of what they believe are the most explosive players in the nation. Guess who was number one? A kid we like to call Shoelace in Ann Arbor!
Rivals described Denard as follows:
"Robinson is like a time bomb: Sooner or later, he's going to explode. Each time Robinson tucks the football, opposing fans hold their breath because he always seems one step away from making a big play. Last season, his first as a full-time starter in former coach Rich Rodriguez's spread offense, Robinson had 16 runs that covered at least 20 yards and seven that exceeded 30 yards. He had at least one 20-yard gain in nine of the Wolverines' 13 games last season. He scored touchdowns on runs of 87, 72, 47, 32 and 32 yards. He also had 12 pass completions of more than 40 yards. That's more than Stanford's Andrew Luck. A big question with Robinson is how the new Michigan staff will make use of his talents."
This is a huge honor for Denard, being on top of a list that features awesome talent with the likes of Trent Richardson (RB, Alabama, #10 on list), LaMichael James (RB, Oregon, #3 on list) and Justin Blackmon (WR, Oklahoma State, #2 on list).
Let's hope Denard can live up to all the hype!